In Stores
Each Concert
Adults $17, Seniors $16, Youth $5 *
Devinny Jewelers, Clubb's in Delta, Gazebo Florist and Boutique in Cedaredge, Tiffany's in Montrose or Montrose Pavilion (249-7015)
Tickets at the door
Each Concert
Adults $20, Seniors $20 Youth $5 *
*Christmas tickets are $20 in advance and at the door for adults. Christmas tickets for ages 17 and under are $5 in advance and at the door.
Welcome to the Valley Symphony Association, Montrose and Delta, Colorado
Season Tickets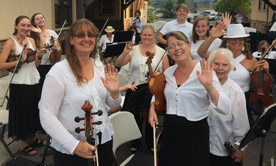 We have season tickets available for the 2017-2018 season. All concerts will be held at the Montrose Pavilion. Since the Christmas Concerts often sell out, buying season tickets will guarantee you a seat. Save up to 40% by purchasing season tickets online.
Season Ticket prices.
Adult (ages 18-59) $70 ($100 value)
Seniors (ages 60 and up) $60 ($100 value)
Youth (ages 3-17) $25
You may also make a donation and receive season tickets with our compliments.
Dates: Beginning with the opening season concerts that are free in September, then October 28, December 8 and 9 of 2017; and February 25, March 25 and April 22 of 2018.